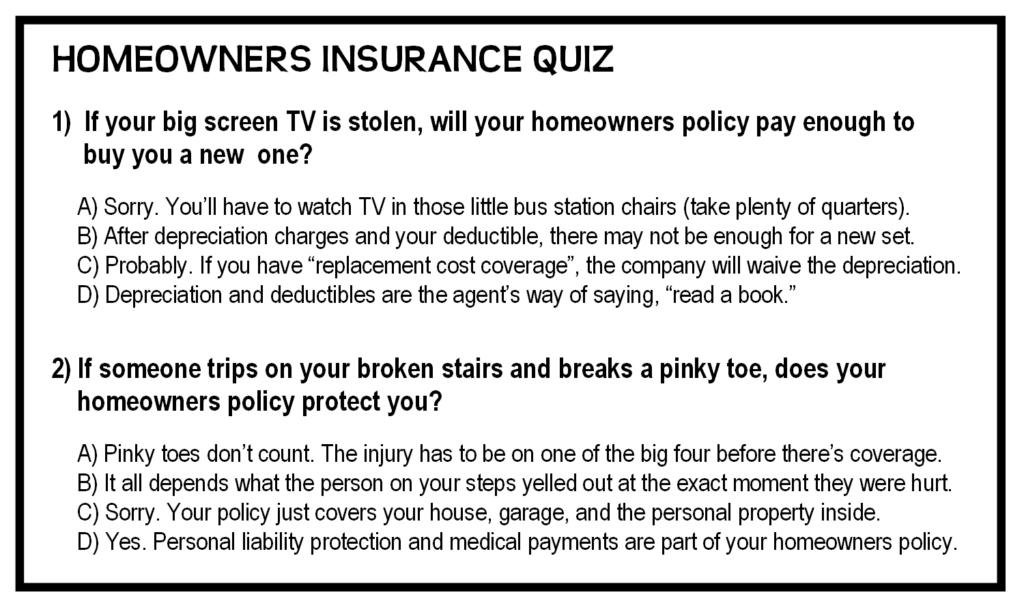 The above quiz is for fun, but your knowledge of insurance or lack of it, is no laughing matter and could be costly down the road!!
Homeowners insurance is supposed to protect that in which is so vital – our home! Thus, it is something I think most should stop and take some time to consider.
Over the last several years two major changes have evolved in your homeowners insurance policy. There has been an increase in the price and a reduction of coverage.  Everybody remembers the mold crisis, right? (If you don't remember, it's probably because you didn't own a house then or you were watching too many sporting events at the time!)
Well, the insurance companies' response to the mold crisis was to not only increase your rates to off set the losses, but to also reduce the coverages to offset future potential losses.  So today you are most likely paying more premium for less coverage!  This may or may not be bad, but you don't know unless you take a few more seconds to read.  Now I warn you, today's lesson will require a little homework but hopefully it will make you better aware of what you are paying for!
In Texas, insurance companies are allowed to sell many different homeowners insurance policies. Consequently, the process of deciding which coverage is right for you can be both confusing and a bit overwhelming.
Several companies in Texas are writing versions of what they call an HO-A policy that has been modified by endorsements or add-ons because it is very limited in what it protects. These endorsed policies may add certain perils to the original HO-A policy and may add replacement cost for the dwelling and contents – but the coverage modifications can differ between companies.
The perception is that the "HO-A Plus" policy is interchangeable with the new HO-B policy.  The reality is that the policies are very different but the new HO-B offers the broadest protection and is readily available throughout Texas.
Okay – so how do the differences impact your policy?  That is a tough and tricky question to answer!  Simply because the answer can change depending on what company's homeowner policy you are considering. My best advise, if you are looking for it, is NEVER take the answer "It's basically the same coverage as you had before" from an agent. Instead, ask the following questions:
What policy are they selling? HO-B, HO-A, or another policy?
If it is an HO-A policy, what, if any, coverage has been added to the base HO-A?
If it is another policy (i.e. a company's national policy), how does it compare to the HO-B or coverage you currently have?
Finally, and most importantly, take the time to verify the information with an independent source.
You may learn that the value of the HO-B is well worth a few extra dollars or you may learn that the modified coverages of an HO-A are okay, when compared to the premium savings.  Either way this is something you need to determine well before a claim happens.  You and your agent should discuss the coverages of your homeowners policy, but if you haven't, then do so soon.
If you have any questions regarding further details, call your current agent or drop on by and see me at my office. At SIG Insurance Services, we are not an insurance agency for everybody! We pride ourselves in helping to properly insure people who are concerned with having the right coverage and protection based on their needs. If you are one of those people and have any questions or would like further explanation, please don't hesitate to call or stop by my office.[/fusion_text]